DealerRater Mazda Dealer of the Year for New York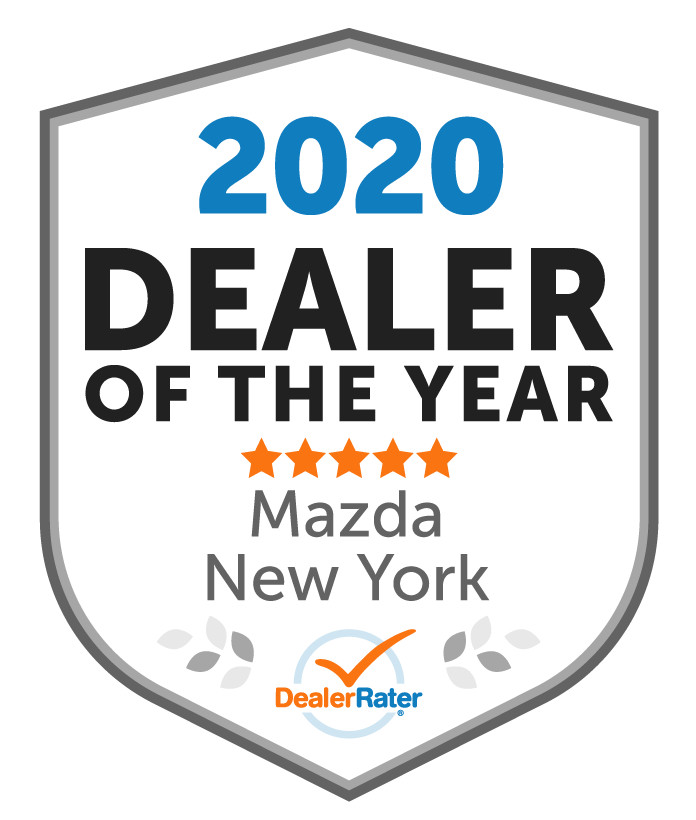 Thank you Long Island for making us the Mazda Dealer of the Year in New York for 2015, 2016, 2017, 2018, 2019 and 2020!
Wantagh Mazda was named the Mazda DealerRater Dealer of the Year for the state of New York in both 2015, 2016, 2017, 2018, 2019 and 2020. The annual DealerRater Dealer of the Year awards recognize auto dealerships across the country for their great customer service based on customer reviews on DealerRater.com.

DealerRater.com​ is a website specifically created to allow and encourage car dealership customers to share both positive and negative feedback with the general public.​ It's a great way for potential customers to get to know a dealership before visiting for either purchasing a new car or getting their current car serviced.

​ When considering dealerships for the Dealer of the Year awards , DealerRater requires a minimum of 25 reviews during the previous calendar year, and an average star rating of at least 4.0.​ With that information, a PowerScore is assigned.

​ "Consumers have identified the best dealers to do business with, and Wantagh Mazda in​ New York​ has emerged as the leader among​ Mazda dealers across the United States," said DealerRater CEO Gary Tucker. "The quality and number of reviews for Wantagh Mazda speak volumes of the top-notch experiences provided to customers."

​ As a dealership, we are very proud and thankful to our employees and customers for making this happen. "We are extremely excited to reclaim the title of Mazda Dealer of the Year for New York," says Vin Vergara, General Manager. "Earning this award tells us that we are achieving our foremost goal: serving the Long Island communities with high-quality, knowledgeable and friendly customer service along with great products."

​ "Having a strong online reputation matters, making the significance of our Dealer of the Year awards crucial to dealers looking to thrive in today's business environment," added Tucker.

​ So THANK YOU​ Wantagh, Nassau County,​ Long Island​ and​ New York​ for making us Dealer of the Year yet again!


Sales Hours
(888) 595-0690
| | |
| --- | --- |
| Monday | By Appointment |
| Tuesday | By Appointment |
| Wednesday | By Appointment |
| Thursday | By Appointment |
| Friday | By Appointment |
| Saturday | By Appointment |
| Sunday | Closed |
Service Hours
(888) 615-0109
| | |
| --- | --- |
| Monday | 7:30 am - 7:00 pm |
| Tuesday | 7:30 am - 7:00 pm |
| Wednesday | 7:30 am - 7:00 pm |
| Thursday | 7:30 am - 7:00 pm |
| Friday | 7:30 am - 7:00 pm |
| Saturday | 8:00 am - 2:00 pm |
| Sunday | Closed |
Parts Hours
(888) 596-0296
| | |
| --- | --- |
| Monday | 8:00 am - 5:00 pm |
| Tuesday | 8:00 am - 5:00 pm |
| Wednesday | 8:00 am - 5:00 pm |
| Thursday | 8:00 am - 5:00 pm |
| Friday | 8:00 am - 5:00 pm |
| Saturday | 8:00 am - 2:00 pm |
| Sunday | Closed |